A holistic approach can help you focus on processes and resources within the medical practice to make sure you deliver a great patient experience ensuring you are getting paid for your work.
Practice optimization consists of making sure that all aspects of your medical practice are working smoothly and efficiently. Physicians should focus on providing good care on a face-to-face encounter with the patient. Sometimes administrative burdens can prevent them from delivering this outstanding experience to their patients.
Providers and physicians shouldn't have to worry about administrative aspects of their medical practice. Instead, they should be sure that their team is working effectively and taking proper care of all of these tasks while they focus on patients and their wellness.
Optimizing your medical practice requires you to ensure:
Appointment processes are working flawlessly.

Your schedule is filled and pre-registration is being managed properly.

Open slots are available for the next person who needs an appointment.

Collections are done effectively.

Check-in and check-out processes are smooth and delivering a pleasant experience for your patient.




Bringing support to your office on these tasks is essential. Practice optimization is based on keeping your team focused on providing excellent customer service to the patient. For some of these administrative and complex tasks, you can consider hiring a medical practice partner to relieve them from those tasks and improve your processes.
At Health Prime, we take the administrative burden from you--making sure that your medical practice is working efficiently and that you are getting paid for your work.
One important aspect on optimizing your medical practice is making sure that the money is being captured at the point of service. This money should be captured at that point because too many patients don't pay when practices send a statement. Knowing in advance how much money to collect from the patient and collecting that money is part of the registration and check-in process that makes your practice a lot more efficient.
With Health Prime's best practices, we see patient collections accounting for 17-20% of all cash coming in. Practices that aren't as effective collecting from patients at the point-of-service usually have 5% or even less of all cash coming in from patients. This big gap in collections can be softened if the medical practice implements some changes to optimize their processes.
How can you optimize your medical practice?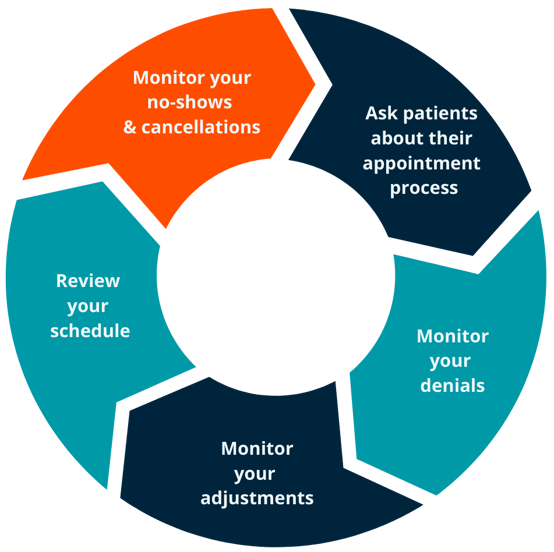 Review your schedule: Make sure all slots are scheduled. If not, have a conversation with the people that are responsible on why are they leaving openings.
Monitor your no-shows and cancellations: What is the policy in your medical practice? Are you calling everybody that didn

'

t show to try and get them back on the schedule?

Ask patients about their appointment process: Was this process smooth and efficient? Did they have any barrier? How long did they have to wait? Ask patients about how their experience was and make sure patients are comfortable with that.

Monitor your denials: Analyze why your claims are being denied. Are there some barriers? Monitor the reasons behind your denials. Set up a plan depending on those reasons so you can prevent them from happening again. If you want to know more on how to prevent denials, you can read our blog What are some simple steps to get your denials under control?

Monitor your adjustments: What did you write off? Are you accurately representing adjustments? By auditing your processes for adjustments and looking at a report by adjustment reasons you will be able to know which flaws are causing you to lose money and write off charges.
Revenue Optimization & Practice Optimization
The overall success of your medical practice shouldn't simply be based on how much money the practice is generating. Revenue is an important part because it's the incoming cash that pays physicians for their work. But Practice Optimization is more than just increasing revenue.
Medical practices typically focus only on the transaction of the encounter between the doctor and the patient. But analyzing and monitoring some other important aspects on practice management that contribute to whether or not there is cash is key to optimizing your medical practice.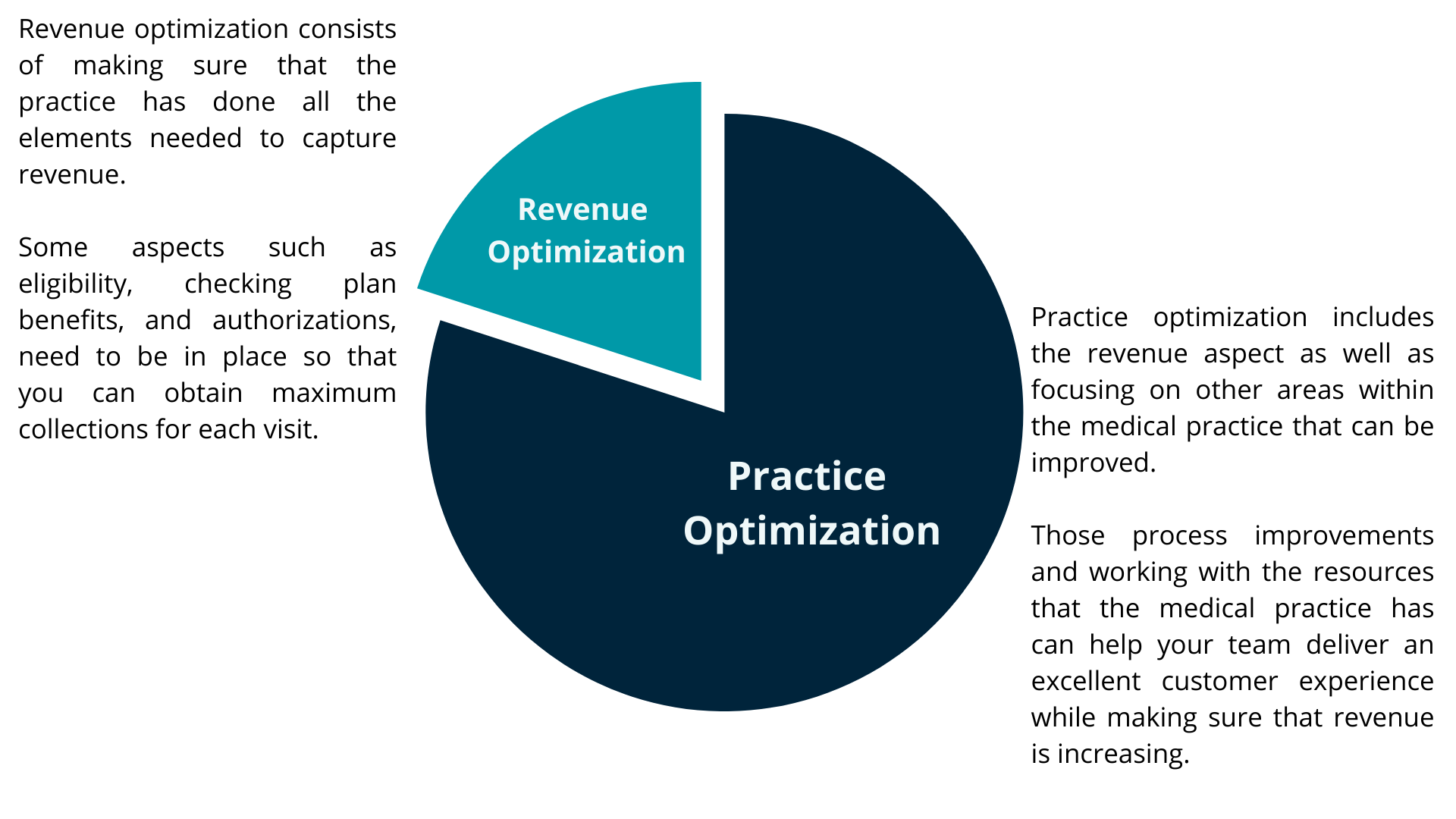 Practice optimization and revenue optimization are connected but are not the same. Increased revenue is a byproduct of practice optimization.
Through Datalytics, our business intelligence platform that focuses on insights that other medical billing solutions neglect, physicians will be able to see how processes within their medical practices are doing. Getting the valuable data about your practice will help you manage productivity and utilization, enhance processes, and optimize revenue while maintaining the highest levels of service.
One other aspect that Datalytics can show you to optimize your medical practice is our unique metric: Plus 1 (One More Patient Per Day). Making some minor adjustments on the way you manage your schedule and your patients will help you achieve this goal. Learn how you can see one more patient per day and how much revenue you will be generating in your medical practice in our blog One More Patient per Day and the Benefits for your medical practice.
Let us help you optimize your practice!
At Health Prime, we offer different solutions that can help you optimize your medical practice, increase your revenue, and make sure that you focus con what matters the most: your patients.
Appointment confirmations

Credentialing

Coding

Eligibility checks

Verifications

Authorization checks

Bilingual call center

Referrals

vScribe

Reporting



Our business intelligence platform, Health Prime's Datalytics, can help you monitor every metric on your medical practice and allow you to identify the reasons behind them. With the drilldown capabilities of Datalytics we can help you understand your medical practice's story and how it's doing.
By having access to this unique medical billing solution, you can set action plans within your medical practice to improve processes, deliver a great customer experience, and make sure you are getting paid for your work.
If you want more information about how you can optimize your medical practice, feel free to email us at businessdevelopment@hpiinc.com. Set up a meeting with us to discuss how Health Prime can help you get your practice back in its prime.
Subscribe to our Datalytics blog for future articles and find out how to improve your medical practice, learn about our software updates and new features, and see how our analytics platform has had a tremendous impact on physician practice revenue cycle management.