Health Prime's Datalytics positions itself as the industry leader for comprehensive physician practice revenue cycle business intelligence.
At Health Prime our proposition is simple.
Relieve physicians and other medical providers from the day-to-day stress of managing the business financial health so that physicians and health system executives can spend more of their time focusing on their real passion: their patients.
In this complex and dynamic environment, we rolled out the 3.0 version of our powerful business intelligence platform for physician medical practices of all sizes and ownership structures: Datalytics.
Datalytics focuses management attention on key drivers for medical practice financial health. We do not see revenue as merely transactional. See a patient, get paid for that effort. We, as physicians, understand revenue is more than that.
Business Intelligence provides only simple key performance indicators missing the bigger picture and leaving you to do the heavy lifting for figuring out the performance improvement pathway. Datalytics carries the burden of the lift and makes it easier to determine go-forward strategies.
Focus on insights that other medical billing business intelligence solutions neglect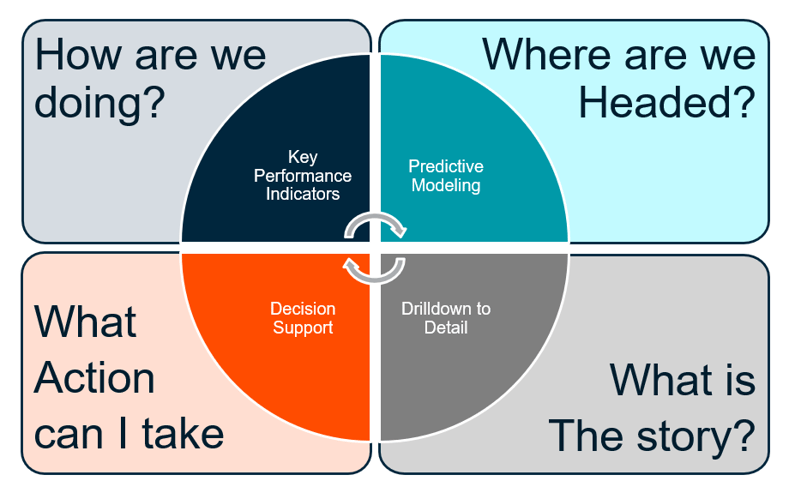 Key Performance Indicators, when effectively deployed, can help us see very quickly how are we doing. Are we meeting targets? Are we better off now than last year? How has COVID-19 impacted our financial health?

Predictive Modeling goes beyond simple KPI and helps us understand our trajectory. Based on what we now know, how will we end the year? Will we meet cash requirements? Will I hit my WRVU threshold for bonus?

Drill down capability helps us understand the story. Why have our days in A/R increased? Which denials are creeping up and from which payers? Are all of our patients receiving annual preventative care? What is the effect of no show patients on my practice revenue?

Decision Support capability gives us insights on how to make improvements. What are three things I can start doing today that will pay off in a meaningful way? What is the impact of seeing one more patient a day? How can I see one more patient a day? What should I do next?
Datalytics has a proven track record.
Stay tuned for future articles in the blog series to see how Health Prime's Datalytics has had a tremendous impact in physician practice revenue cycle management.
Subscribe to the Health Prime Datalytics Blog and sign up for our Datalytics v3.0 webinar to start your journey.