Business Intelligence provides only simple KPIs, often missing the bigger picture and leaving you to do the heavy lifting to figure out your performance improvement pathway.


A good Business Intelligence solution should provide you with a robust analytics tool, a drill down capability to dive deep into your KPIs, and the correct resources on your account to work along with the BI platform.



Other medical billing business intelligence often neglects insights that Datalytics focuses on. It is these insights that make it easier to determine go-forward strategies.
A good business intelligence (BI) platform can help you monitor the overall health of your medical practice and get an insight to how your practice is doing. You will be able to reduce costs, increase your revenue, and improve patient satisfaction by detecting areas of improvement.
How

easy is it for you to detect areas of improvement with your current business intelligence solution?
With typical BI platforms, the process to see your metrics and how your practice is doing is usually more manual. Your Key Performance Indicators (KPIs) are not seen at a glance and you are left doing all the hard work--figuring out what to measure yourself against, researching the industry standards, and benchmarking your practice against broad indicators that the industry holds.
Doing all these tasks on your practice takes a lengthy and exhausting process leaving you with this administrative burden and taking you away from what matters the most: your patients.
Business Intelligence provides only simple KPIs, often missing the bigger picture and leaving you to do the heavy lifting to figure out a performance improvement pathway for your medical practice.
A GOOD business intelligence platform will provide you with some
key features for your practice: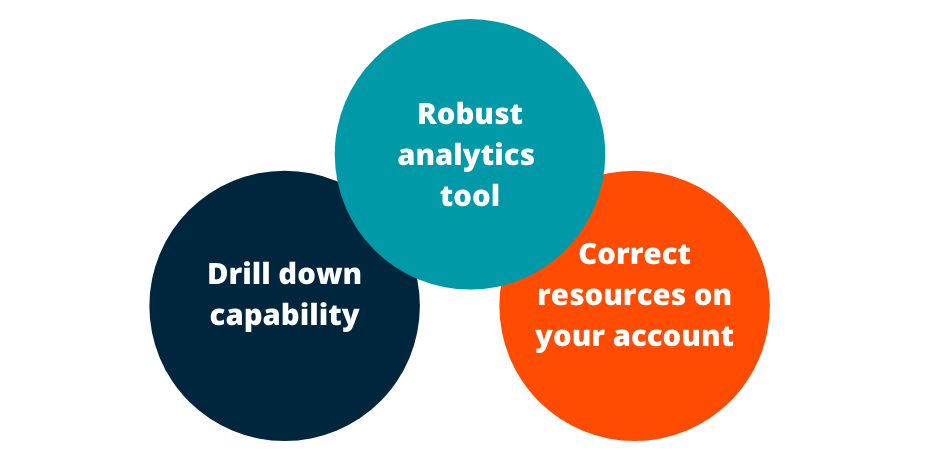 1. A robust analytics tool shows you KPIs and areas of improvement you need to focus on. With this information you may be able to get back to your billing team with some valuable information for your practice's health.
Effectively deployed, these metrics can help you see very quickly how you are doing. Are you meeting your targets? Are you better off now compared to last year? How has COVID-19 impacted your financial health?
2. Drill down capability helps you understand your medical practice trends and story. It is not simply showing you the metrics. It will allow you to understand which metrics in particular are fluctuating and why. Why have your days in A/R increased? Which denials are creeping up and from which payers? What is the effect of no-show patients on your practice revenue?
An effective BI platform will allow you to dive deep into the reasons behind each indicator so you can set up a plan of action to improve those metrics.
3. The correct resources on your account to work with that BI platform--working with an efficient team who keeps an eye on your practice is as important as having access to the platform in the first place.
If you don't have a solid structure on the backend working your denials, your no responses, looking at your over 90-day A/R, trending out your denials and rejections, and focusing on areas of improvement, that is not good business intelligence.
With a good business intelligence platform, you will be able to keep your finger on the pulse of the overall health of your account at one glance and have access to all your information with ease so you can place them into meaningful reports.
Pulling reports with valuable information from your practice is essential to see trends. It will let you identify which KPIs you need to improve and how you can improve them. These types of analyses will help you have training/educational sessions with your physicians and staff to improve your processes.
Health Prime's Datalytics platform focuses on insights that other medical billing business intelligence solutions neglect. Datalytics carries the burden and makes it easier to determine go-forward strategies.
Datalytics raises the bar for medical billing analysis by providing the ability to:
Drill down into your metrics to understand your KPI trends.

Determine why your metrics are how they are.

Create a plan of action to manage your medical practice efficiently and

improve your revenue collection.

Find more time to dedicate to your patients.






At Health Prime we understand the importance of benchmarking your practice. And not just simply benchmarking it, but benchmarking it against the best practices and standards. We manage internal benchmarks above the industry average so you can optimize your practice, increase revenue, and ensure that you get paid for your work.
If you want more information about Datalytics and how you can improve your medical practice by using it, set up a 1-on-1 training with your Health Prime Operations Consultant. If you are not a client yet, feel free to email us any questions you may have at marketing@hpiinc.com. Set up a meeting with us to discuss how Health Prime can help you get your practice back in its prime.
Subscribe to our Datalytics blog for future articles to find out how to improve your medical practice, learn about our software updates and new features, and see how our analytics platform has had a tremendous impact on physician practice revenue cycle management.