Get an overview of which are the most common End of Year (EOY) reports that you need to improve your best practices analysis, learn how to have your medical practice ready for 2021 and set up goals for this new year.
On our first webinar of the year ("Out with the Old & In with the New: A 2020 Review"), Lucrezia Dunn, Operations Consultant at Health Prime, explained the importance of running End of Year (EOY) reports and how understanding them gets you an insight on your practice and how to improve it. Dunn also talked about how to get ready for 2021 and set some goals on your medical practice to succeed in this new year.

Which reports should I run at the end of the year?
Understand the most common End of Year reports will help you improve your best practice analysis. This way, you will be able to know where your practice was last year and help you make plans to where you want your practice to go this 2021.
The most common End of Year (EOY) reports you want to pay attention to are:
Key Performance Indicator Report


Provides a summary list of the most important indicators associated with the financial performance of the practice over a period of time. See how your charges, payments and adjustments fluctuate on a monthly basis.





In Kareo, there are three types of Key Indicator Reports:

Datalytics Review
A

llows you to get full visibility into your practice

'

s financial Key Performance Indicators so you can monitor and track your financial health and identify billing issues early to intervene before submitting your claims to the payer.




Denials/ Rejections Report


Show trends whether by payer, CPT, ICD 10, or other factors. Identify trends, find reasonable solutions to stay ahead of the curve and work on solutions to prevent loss in payments.



"No matter how hard you try to make everything perfect, denials and rejections still happen. With all the 2021 coding changes, providers should be prepared for the chance of an increase in denials. This fact hurts but the good news is that a strategy supported by analytics can help prevent these denials and rejections", said Dunn.


Top CPT Codes


Determine which your top performing CPT codes are to identify where the bulk of your revenue is coming from. Understanding this report will help you set goals for the future and understand which codes are not being reimbursed at the rates you may have originally expected.




Top Carrier / Insurance Analysis (Payer Mix)


See which payers all your charges and payments are coming from. Knowing this information will help you set goals for the new year. You may notice that some payers consume the majority of your practice

'

s income, while others may only be making a small impact.




Adjustment Report


Get a summary of the adjustments posted for last year by adjustment type. See all your write off's and submit to Tax Prepper to see what can be considered as a financial loss of income when filling taxes. Also see where money is being lost to.





In Kareo, there are 2 types of Adjustments Reports:

Credit & Unapplied Reports


Allows you to see patients/claims with either unapplied payments or credits on their accounts. Running this report will allow you to review these credits and create projects to have these reviewed for accuracy. Once determined you can discuss a plan to refund, hold credits on file, or await the insurance to execute an automatic takeback.
Are you ready for 2021?



Understand the importance of knowing when to let go of the old Accounts Receivable (A/R), learn how to create a plan for bad debt and get an insight on why refunds are important is important to set your practice for success.

Regarding the Accounts Receivable (by aging) report, this document allows you to see outstanding insurance claims based on aging totals. By knowing how much is still outstanding you can work and discuss with your Operations Consultant / Advisor to adjust your bad debt AR, set up an action plan and define some benchmarks.
"We pay special attention to our AR over 90 days because the older it is, the harder it is to collect. Our best practice benchmark for our AR over 90 days is benchmarked at 5%. If your account is not at 5% over 90 days, then consider cleaning house and keeping this tradition open for all the years to follow", Dunn said.
How can I create a plan for bad debt?
Let

'
s discuss some of the steps to create a plan for bad debt: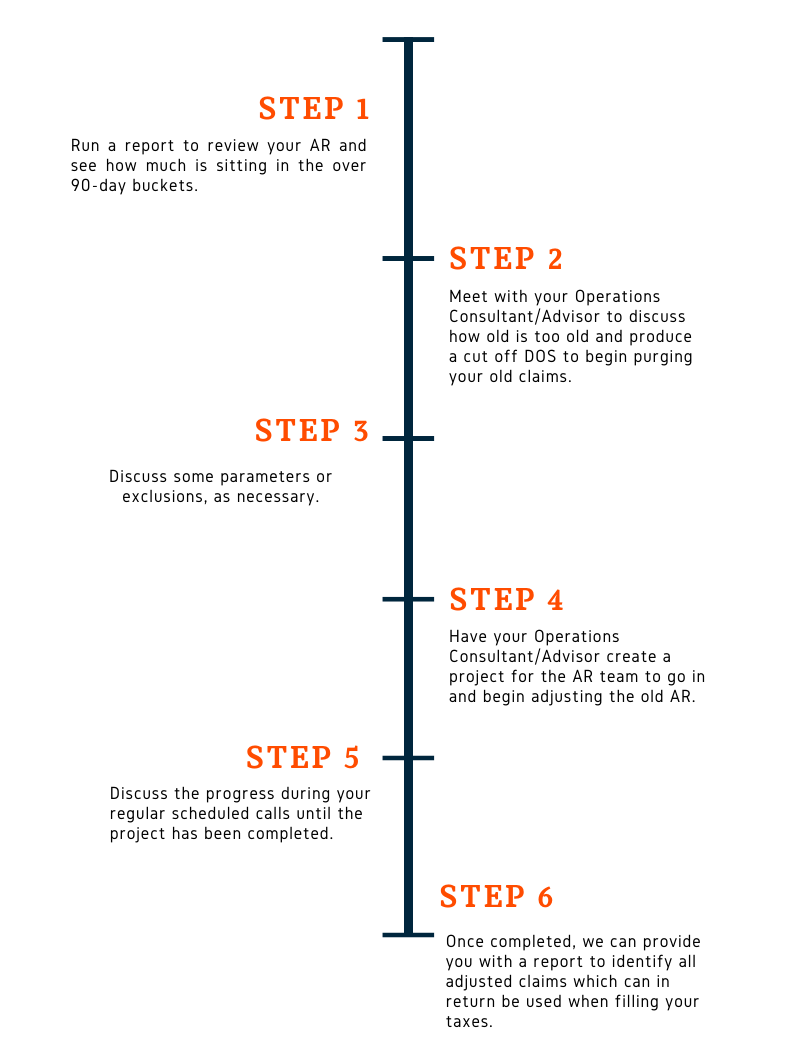 There are some common scenarios which may also require Bad Debt Adjustments such as: claims older than 1-2 years, claims passed timely filling, claims with exhausted/failed appeal attempts, secondary balances where the primary EOB is not available and where it allows more than the secondary.
Why refunds are important?
Much time and effort are devoted to collecting information, creating charges, submitting claims, and collecting payments to have to spend additional time and energy trying to return this money. It seems like the task that's on the bottom of the list.
"Processing and returning credit balances is not optional but mandatory. It's not uncommon for providers to keep such overpayments until specifically asked to return them or until payers have withheld them from subsequent payments. Some providers may not only keep the overpayments but continue to bill inappropriately, creating even more overpayments", Dunn said.
Some scenarios that cause credit balances are defined as: non covered services, in excess of the allowed amount for an identified covered service, in error, as duplicate payments and when another entity had primary responsibility for payment.
Credit balance procedures should include: review of the credit balance report with your billing team, decide if a project needs to be created in order yo have credits reviewed for accuracy, identification of both patient and insurance refunds, initiation of the refund process and delivery of supporting documentation, and more.
Set your goals for 2021!
As you make your own New Year's resolutions, it's the perfect time to set new goals for your practice as well. Learn how to report to set goals and increase your revenue for 2021, stick to new reporting routines for this year, gather some ideas to assist you in creating a plan with your Operations Consultant/Advisor to tackle patient collections to increase revenue; and lastly, review common best practice benchmarks.
Before setting your goals, it is important that you remember that every one of them needs to follow the SMART technique. That means that each of your goals need to be: Specific, Measurable, Attainable, Relevant and Time Based.
Setting goals may sound easy but monitor the progress to see how you are doing throughout the year it's the hard part. Here are some recommended reports that you can run on a basis to monitor your medical practice and make sure that your progress is in line with your set goals: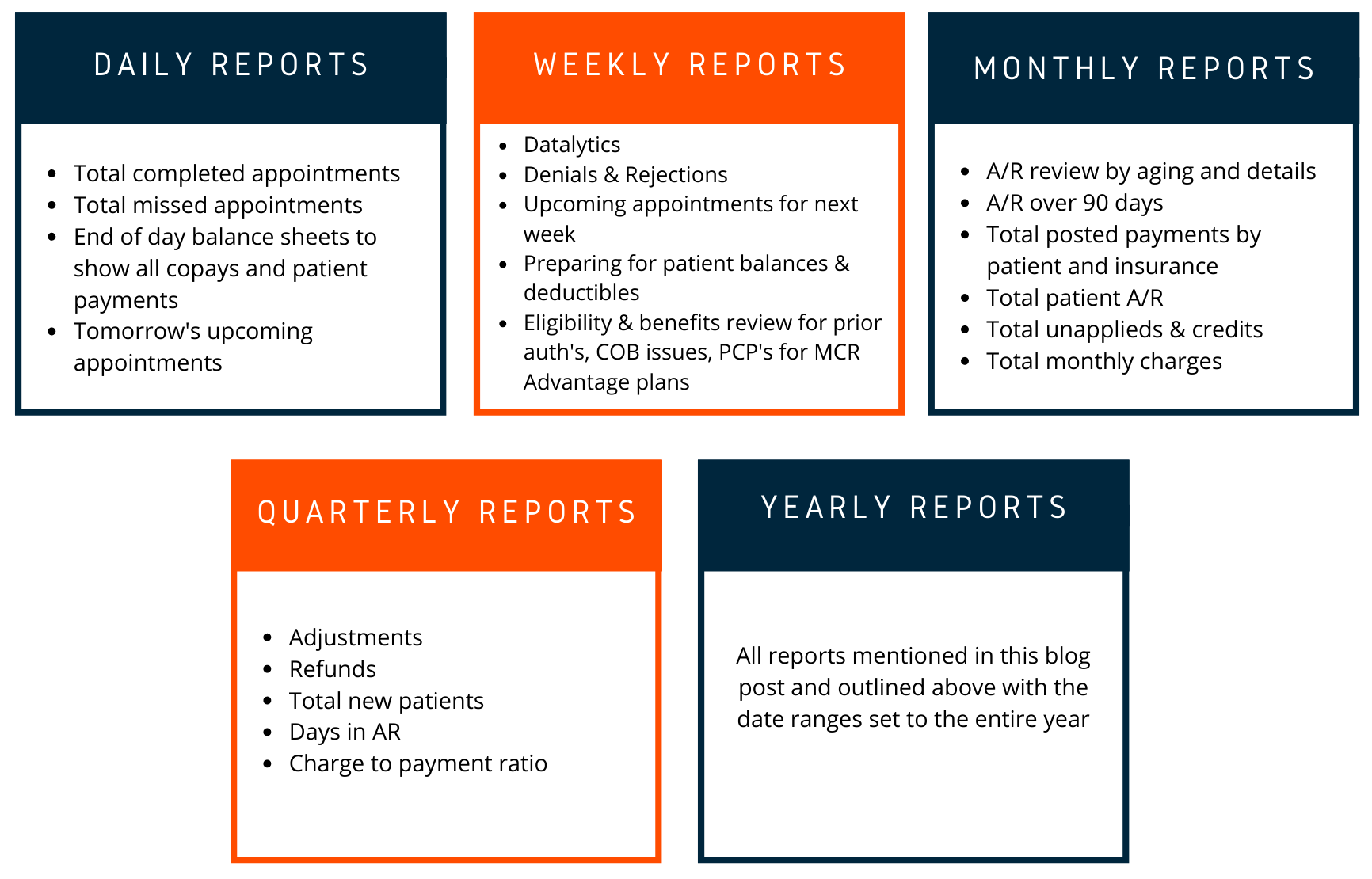 Improve your patient collections
Due to all the recent changes in healthcare policies from the Affordable Care Act to COVID, the patient's insurance policies now come with higher deductibles, copays, coins and all around out of pocket expenses, patient payments now contribute to at least 35% of the total income whereas back in 2005 it was only 15%.
It is imperative that you prepare and have the discussions necessary to be as vigil as you can in collecting these payments from patients up front. The longer you wait to collect patient payments the less likely they are to be recovered.
Here are seven key components to improve your patient collections: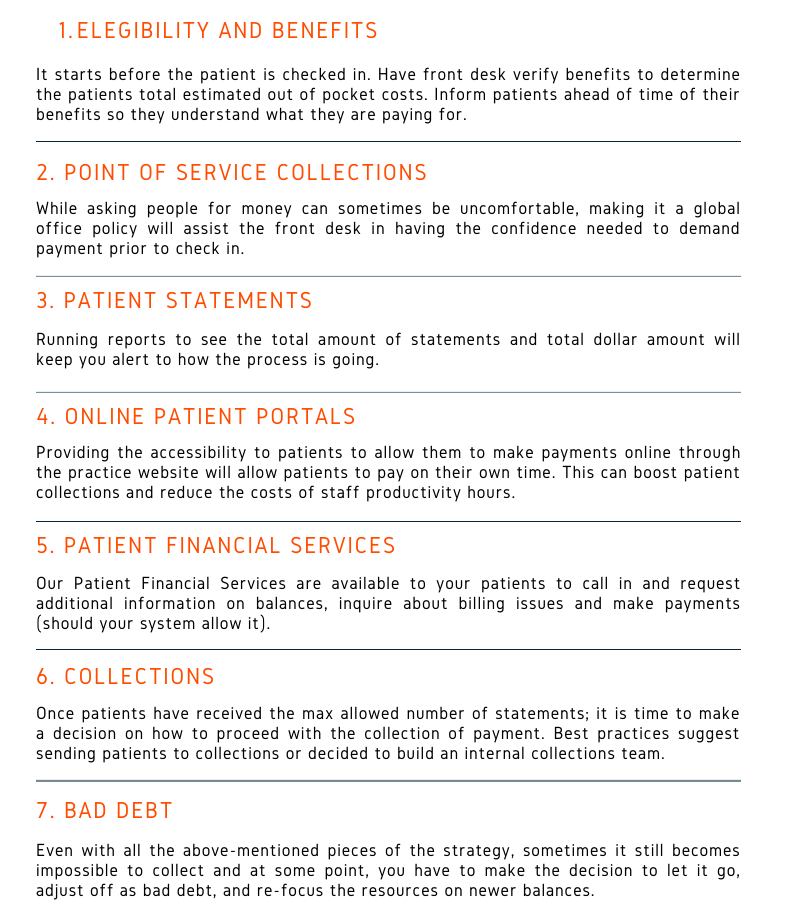 Now that you know how to review what you have done in the past and how to set SMART goals for what you would like to do in the future, let us know how we can help you achieve those goals. Feel free to contact us at: marketing@hpiinc.com
Subscribe to our Health Prime blog to stay tuned on our upcoming webinars and all the latest updates to run your medical practice better so you can focus on what matters the most: your patients.