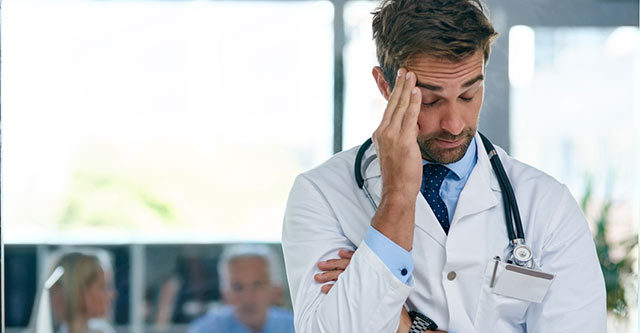 In the rapid transition from fee-for-service to value-based health care, physicians are working harder than ever. They're increasingly struggling to achieve better patient outcomes and lower cost while managing the financial health of their practices. Administrative burdens are rapidly eclipsing the joys of patient care and relationships.
The result is an epidemic of physician burnout that's taking a huge toll.
Here are some recent statistics:
78 Percent of physicians say they have experienced burnout.—Physicians Foundation 2018 Physician Survey
Physician burnout rates have risen from 30 to almost 60 percent in some specialties.—AMA
80 Percent of physicians report being at full capacity or overextended.—Physicians Foundation 2018 Physician Survey
33 Percent of physicians say depressive feelings impact their relations with patients.—Medscape National Physician Burnout & Depression Report 2018
Physicians spend at least 44 percent of their time on clerical and documentation tasks, including 86 minutes every day, after hours, on electronic health records.— AMA 2017 Research Study
Burnout Affects Doctors and Patients
High burnout rates mean increased occurrences of mental health issues for physicians, including disproportionate rates of depression, substance abuse and suicide. All of which clearly affect patient care.
Burnout can impair physicians' attention and decision-making. They may also feel less empathetic and engaged in patient outcomes.
Burnout also means many doctors are leaving medicine mid-career, which, among other things, is negatively affecting patients, who have to start over with new providers. Many other physicians are cutting back on hours, making it harder for patients to schedule appointments with the doctors they still have.
While the root cause of physician burnout is complex, increasing workload and financial strain are clearly primary contributors. So, the question becomes how to control—then reverse—the trend and breathe new life into doctors and the field of medicine?
According to Medscape's National Physician Burnout & Depression Report 2018, to alleviate burnout, 56 percent of physicians suggested fewer bureaucratic tasks and 39 percent suggested fewer hours spent working. About one-third of physicians surveyed for the report suggested more money and a more manageable work schedule.
That means, to get it right takes:
A focus on patients, not paperwork
Driving better health outcomes
Streamlining clinical and administrative procedures
Improving margins and profitability
Empowering physicians to get back to what they love
Health care organizations need strategic partners to help them get there though. At HP, we believe technology, data and a physician's perspective can deliver solutions that benefit all stakeholders, including providers, patients and practices.
Managing the complicated administrative burdens of more payors, varying standards and an endless stream of government regulations has made physician burnout an occupational crisis in health care today. Since 2004, HP has been helping healthcare organizations and their patients thrive while allowing physicians to get back to what's most important.
HP makes technology the solution, not the cause. Our holistic approach delivers on a promise to improve the well-being of physicians, patients and healthcare practices. We believe with the right technology and transformational partner, moving from fee-for-service to value-based care can make sense for everyone and help.
If you're ready to address burnout and get back to the joys of practicing medicine—and your life, contact us.