Health Prime's Datalytics positions itself as the industry leader for comprehensive physician practice revenue cycle business intelligence.
HealthPrime is on a mission to help health care organizations and their patients thrive while allowing physicians and other medical providers to get back to what's most important -- Taking care of patients.
No physician went to medical school to learn how to be a great businessman. Even so, the pressures of stagnant reimbursement and payer driven complexity layered into the billing process have meant that their medical practice as a business is in jeopardy; even as physicians continue striving to provide world class patient care.
Is your revenue cycle management partner truly an expert?
Independent physician practices and the health systems who employ physicians often do not have the internal resources nor the expertise necessary to effectively manage the physician practice revenue cycle for the providers they employ. Often losing tens of thousands of dollars on each provider. Thus, they look to outsourced vendors to support them with industry competence and expertise and to help them make financial sense from their physician employment endeavor. Often times these vendors are merely a division of an electronic medical record software company that was created solely for the purpose of propping up stagnant software revenue in a world where most physicians now have an electronic health record system. These software companies now add revenue cycle management services as a component of their business offerings; but it is a comparatively small component and certainly not the driver for their own corporate priorities. Physician practice revenue cycle management is a sideline business for software companies.
Performance transparency is critical for success.
Revenue cycle vendors (or even internal billing managers) that do not provide comprehensive insights into performance make it difficult for decision makers to enact performance improvement strategies and plans. Unfortunately, all too often this is by design. The less transparent the problems are, the less likely you are to be critical of their work. By masking their own failings, billing companies are also masking problems created by practice operational failures and (even worse) masking problems created by payer errors and abuses.
HealthPrime's

Datalytics

brings an important perspective to revenue cycle management.
It is in this complex and dynamic environment that HealthPrime is rolling out version 3.0 of their powerful business intelligence platform for physician medical practices of all sizes and ownership structures -- Datalytics.
HealthPrime's proposition is simple. Relieve physicians and other medical providers from the day-to-day stress of managing the business financial health so that physicians and health system executives can spend more of their time focusing on their real passion.
HealthPrime was created sixteen years ago by physicians and seasoned physician practice executives, not a software company. Today, the executive leadership of HealthPrime includes physician input as a driver for company operational priorities and strategic positioning. The executive team has a solid foundation in physician practice operations, so they understand the integral workings of a physician practice from a boots-on-the ground perspective.
Revenue Cycle Management is not merely transactional.
Datalytics focuses management attention on key drivers for medical practice financial health. HealthPrime does not see revenue as merely transactional. See a patient, get paid for that effort.
Business Intelligence that provides only simple key performance indicators is missing the bigger picture and leaving you to do the heavy lifting for figuring out the performance improvement pathway. Datalytics carries the burden of the lift and makes it easier to determine go-forward strategies.
Revenue Cycle Management is wholistic.
Datalytics layers on insights that other medical billing business intelligence solutions neglect.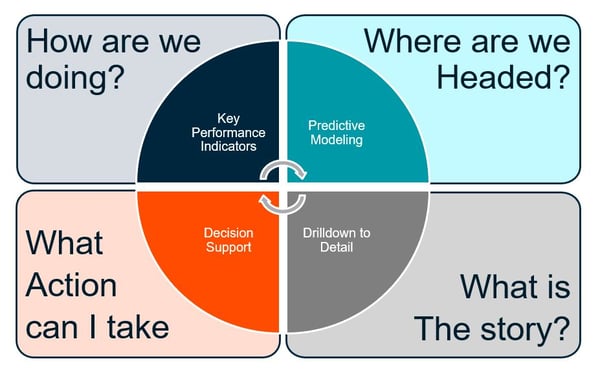 Key Performance Indicators, when effectively deployed, can help us see very quickly how are we doing. Are we meeting targets? Are we better off now than last year? How has COVID-19 impacted our financial health?
Predictive Modeling goes beyond simple KPI and helps us understand our trajectory. Based on what we now know, how will we end the year? Will we meet cash requirements? Will I hit my WRVU threshold for bonus?
Drill down capability helps us understand the story. Why has our days in A/R increased? Which denials are creeping up and from which payers? Are all of our patients receiving annual preventative care? What is the effect of no show patients on my practice revenue?
Decision Support capability gives us insights on how to make improvements. What are three things I can start doing today that will pay off in a meaningful way? What is the impact of seeing one more patient a day? How can I see one more patient a day? What should I do next?
Datalytics has a proven track record.
Watch future articles in the blog series to see how HealthPrime's Datalytics has had a tremendous impact in physician practice revenue cycle management. Physician practice revenue is up on average 5-10% for Datalytics users. This is how they have done that.
Seventy percent reduction in denied claims.
Reducing claim denials should be your practice number one RCM priority. Payers understand that denying physician charges is their ticket to improved profitability. They have very sophisticated software to mine every claim for biller errors or omissions. This not only delays cash, but drives a considerable effort on behalf of the physician practice to resolve these denied charges. Sometimes things fall through the cracks. Weak workflow process and lack of visibility into the problem adds billions of dollars to payer profits at the expense of the physician practice.
Eighty percent reduction in Insurance Accounts Receivable over 90 Days old.
Ineffective claim resolution means that charges age out and cash is lost. Datalytics not only gives you visibility on aging claims, it enables you to deep dive into the billing and collections activities without having to run cumbersome A/R reports in your practice management software. You can look at any claim in your receivables immediately, without having to even log in to the practice management software. Physicians and their accountants love that they don't have to become experts in the practice billing software in order to see what is happening with their cash flow.
Five to ten percent increase in practice revenue.
Revenue is not just about missed opportunities for collecting revenue. Datalytics focuses your attention on other revenue drivers such as appointment management, payer contract performance, provider utilization, coding patterns, and bad debt avoidance. Subscribe to this blog to see how Datalytics can help your practice.
Without visibility there can be no insight. The visibility embedded in HealthPrime's Datalytics v3.0 provides a powerful insight into improving your practice financial health. This is simply the best business intelligence tool in the market.
Next Issue:
Technology enabled revenue cycle management is the key to empowerment.
In a world of increasing stress and complexity, technology enabled revenue cycle management is the key to empowerment. Complacency and intransigence are the enemy of progress. Don't be stuck in the headlights and unable to move. Step forward aggressively and confidently knowing you are moving in the right direction.
Subscribe to the HealthPrime Datalytics Blog and sign up for a Datalytics v3.0 webinar to start your journey.